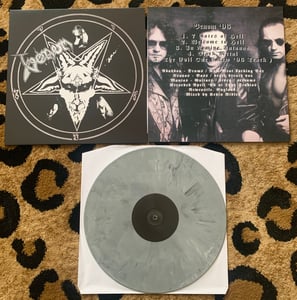 $

40.00
Imported from EU...
Recorded April 1996 at Lynx Studios, Newcastle, England. Self-released EP published to promote the Venom's classic lineup resurrection and then-forthcoming album "Cast In Stone".
Tracks 1 to 4 are classics re-recorded; track 5 is a preview from "Cast In Stone", but is a completely different version than the later album track of the same title.
Tracklist
A1 7 Gates Of Hell
A2 Welcome To Hell
A3 In Nomine Satanas
A4 Black Metal
A5 The Evil One (New '96 Track)
No Side B tracks... all in the A Side!